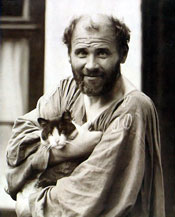 © wikipedia.org
Gustav Klimt was born in July 1862 and became the leading light of the Viennese art nouveau movement, creating a style of highly elaborate eroticism and ornate depictions of the female body. He was also highly influential on the work of Egon Schiele, his close friend and protege.

Klimt became the mentor and tutor of Egon Schiele in Vienna in at the turn of the 20th century. When Schiele moved to Vienna to study he met Klimt and the two formed a close bond. Initially, Schiele imitated the older artist's style and then he began to forge his own. They stayed in close contact, painting each other, featuring in dual portraits and sharing models. They even discussed designing their own mausoleum.

Having trained at the Vienna School of Arts and Crafts, Klimt's early career focused on architectural decoration and painting murals. His works still adorn many public buildings and palaces from Vienna to Brussels. However, he soon offended the establishment with his seemingly 'pornographic' work and so turned his hand instead to private work. Here, he developed his erotic themes, often using gold elaboration and drawing on classical inspiration.

Klimt was one of the founding members of the Viennese Secession (Wiener Sezession) which did so much to define art nouveau and shape Viennese architecture, art, interior design and fashion. Klimt died of a stroke in February 1918, a few months before Schiele's death, and was buried at the Hietzing cemetery where Schiele also rests. Schiele sketched Klimt on his death bed.

Together with Oskar Kokoschka, they form, arguably, the driving force behind painting in the Viennese art nouveau movement.