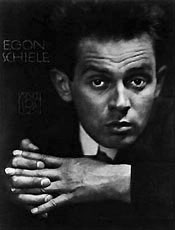 © wikipedia.org
For a full biography, see
Wikipedia's comprehensive
overview of his life.
Egon Leo Adolf Schiele was born on 12 June 1890 in a small village north of Vienna called Tulln. His father was a stationmaster for the Austrian State Railways and his mother had moved to the region from Krumau, a small village in southern Bohemia . After a turbulent childhood, during which his father went insane and died from syphilis, Schiele made his way to Vienna to study art.
On arriving in the capital city, Austria's leading artist of the day, Gustav Klimt, befriended Schiele and took him under his wing, nurturing the young artist's nascent style and giving him a vital leg-up into the world of Viennese art.
Schiele developed a unique style of painting, exposing naked flesh in a stark colours and explicit compositions, using models taken from society's more insalubrious echelons. At the time, his work attracted strong criticism, leading to accusations of pornography and rejection by the art world.
In 1911, he left Vienna for his mother's native village, Krumau, where he lived with his seventeen-year-old model and lover, Valerie Neuzil. Within several months he had been imprisoned for propagating indecent material after it was discovered that young girls were coming to his house to be painted.
Returning to Vienna , Schiele struggled up the social ladder, marrying the daughter of an upstanding middle-class neighbour, until he was finally accepted by Vienna 's fickle establishment. They married shortly after the outbreak of World War I and moved around the Habsburg Empire as Schiele negotiated different postings to keep away from the front line. While the Great War dragged on, Schiele enjoyed increased success as well as increased suffering as Vienna was sucked dry by the military conflict.
Despite the peace which was finally emerging in his private life, as the War drew to a close in 1918 there was one more tragic twist awaiting Schiele and his wife.